America Ferrera Opens Up to Katie Lowes About Anxiety She Felt Towards End of Second Pregnancy
America Ferrera Opens Up to Katie Lowes About Anxiety She Felt Towards End of Second Pregnancy
America Ferrera is a woman warrior.
During the first episode of the third season of Katie's Crib — Shondaland's first podcast in partnership with iHeartRadio that features Katie Lowes and a guest having a frank and intimate conversation about the joys, pains and hilarity of new motherhood — the Superstore star opens up about the anxiety she felt towards being pregnant during a global pandemic, how she managed to push past it and why her views on body image have shifted since becoming a mom.
"There's the anxiety about the [coronavirus] itself which is like, you don't want to get sick, you don't want your children to get sick, you don't want your newborn baby to get sick," Ferrera, 36, says in the episode.
The new mom of two adds, "I try to stay away from the news cycle because I think you can drive yourself absolutely insane. I just know I have to put up my filters because I don't have the emotional capacity to let that in."
"I realized that really early on for me," says Ferrera. "There's information you need to know to be informed and unfortunately in this day in age you have to be able to stop yourself and know what's healthy and know what's not."
Never miss a story — sign up for PEOPLE's free daily newsletter to stay up-to-date on the best of what PEOPLE has to offer, from juicy celebrity news to compelling human interest stories.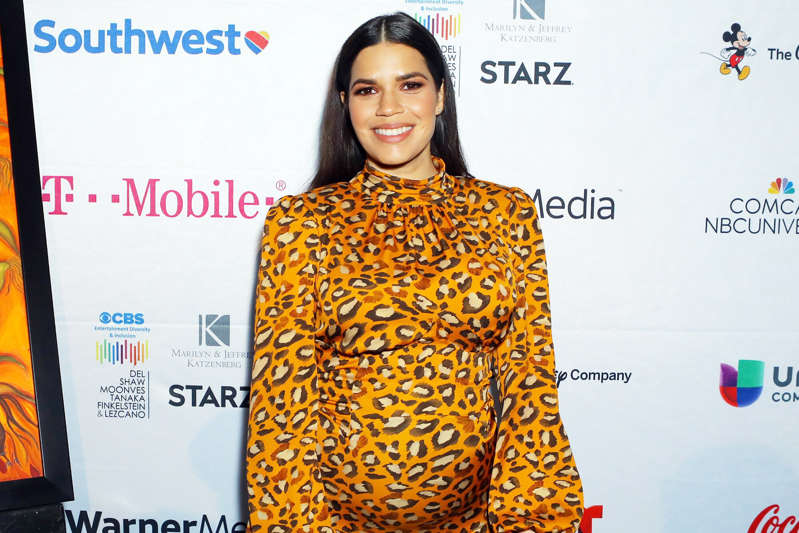 © Provided by People JC Olivera/Getty America Ferrera
RELATED: Pregnant America Ferrera Is "Thinking of All You Other Mamas" amid Coronavirus Pandemic
Adds the actress, "For me, I could feel my heart rate, my anxiety, my blood pressure go up. And also not being able to close my eyes and go to sleep at night because I'm sitting there with all these news stories swirling in my head and just realizing very early on I had to be very disciplined about what I let in because it just doesn't serve you. Especially in a time where you just don't need that added stress when you're pregnant."
The Sisterhood of the Traveling Pants star announced the birth of her second child, daughter Lucia Marisol, on Instagram for Mother's Day.
"LUCIA MARISOL WILLIAMS arrived on May 4th to give me my Mother's Day hugs and kisses herself. Mama, Dada & Big Brother are over the moon to welcome her bright light to our family," Ferrera wrote along with a photo of her newborn's tiny hand.
The star and her husband Ryan Piers Williams are also parents to son Sebastian, a.k.a. Baz, who turns 2 on Monday.
RELATED VIDEO: America Ferrera Reveals What She Won't Name Her Baby — and If Those Sisterhood Jeans Still Fit
"The most exquisite little creature graced us with her presence on May 4, 2020. Please meet the newest member of our family, Lucia Marisol Williams. She came just in time for Mother's Day. Everyone is healthy and happy!" Williams, 39, wrote on Instagram.
Now, as a mother of two, Ferrera says her outlook on body image has shifted — for the better.
"I've struggled with body image my whole life," she says. "I feel like I've gotten to such a place, like f— that s—. What a waste of time and energy. F— the patriarchy and f— what my body is supposed to look like and also, f— you even more when I just brought life into the world and then my body is supposed to look like something. F— all of it."
Ferrera adds, "I was so in that place, that like post-baby [place], I didn't really struggle with it because I was just like, 'I f—ing dare someone to tell me to lose weight!' "
Speaking with PEOPLE, Lowes, 38, says she's grateful the third season of Katie's Crib is being released during this time — a time where everyone could all use a little support.
"I feel so lucky to have the guests we've had, whether they be experts or mom friends who are going through the same thing," says the Scandal actress, who shares 2½-year-old son Albee with husband Adam Shapiro.
"It's just very helpful in this time. I talked to America five days before she gave birth to her daughter," says the actress. "There are a lot of pregnant women who are not only going through the anxieties and fears of childbirth, you had a global pandemic on top of it. The anxiety is there."
"It's a very open, honest talk," Lowes adds of the third season. "We have amazing guests and I just feel really proud of the work and really proud of the Katie's Crib community that we've built. I hope it provides moms … feel less alone [and] get a little bit of advice should they need it and at the very least or most, they laugh."
Continues Lowes, "I just feel like it's really important to find joy and laugh at yourself, your kid and your family because at the end of the day we're just covered in pee, poop and spit-up. The whole ride is wild!"
PEOPLE – Christina Dugan