Trudeau says Canada concerned about China's proposed new law for Hong Kong
Prime Minister Justin Trudeau is expressing concerns about Hong Kong, where the Chinese government is considering a bill that could result in a crackdown on pro-democracy protest activity.
"We are concerned with the situation in Hong Kong," he said. "We have 300,000 Canadians who live in Hong Hong, and that's one of the reasons why we want to ensure that the one country, two systems approach continues for Hong Kong."
Trudeau said Canada has long called for de-escalation of tensions between Beijing and the semi-autonomous territory, which has faced widespread protests for nearly a year. The demonstrations were sparked by a now-scrapped proposal to extradite Hong Kong citizens accused of crimes to mainland China.
On Thursday, U.S. President Donald Trump said his country would react strongly if China went ahead with the national security legislation.
The proposed bill, submitted Friday on the opening day of China's national legislative session, would forbid secessionist and subversive activity, as well as foreign interference and terrorism.
Hong Kong pro-democracy lawmakers have sharply criticized the measure, saying it goes against the "one country, two systems" framework under which Beijing promised the former British colony freedoms not found on the mainland.
On Friday, the foreign ministers of Canada, Australia and the U.K. released a joint statement expressing similar concerns. The ministers said the 1984 joint agreement establishing the conditions of Hong Kong's return to China ensures the region will retain "a high degree" of autonomy, along with protections for human rights such as freedom of expression.
"Making such a law on Hong Kong's behalf without the direct participation of its people, legislature or judiciary would clearly undermine the principle of 'one country, two systems' under which Hong Kong is guaranteed a high degree of autonomy," the three ministers stated.François-Philippe Champagne (FPC) ✔@FP_Champagne
Read the joint statement from Canada, the UK and Australia on the proposed legislation related to national security in Hong Kong. @DominicRaab @MarisePayne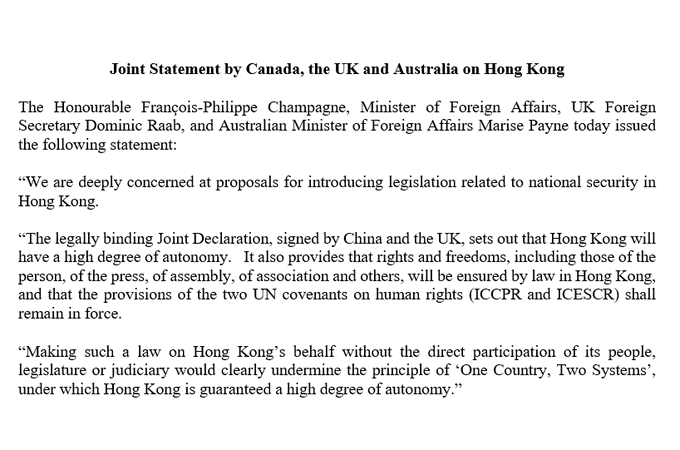 1,782Twitter Ads info and privacy1,630 people are talking about this
–Global News With files from The Associated Press